When it comes to serious relationships, there are two apps that rise to the top of the pack — one is Elite Singles, and the other is eharmony.
I've reviewed a lot of dating apps, and living in a giant metro city like New York, I have a pretty good idea about the hot dating apps everyone is using.
What you should know about Elite Singles:
Elite Singles brands itself as a dating website for professionals
Members complete a 15-minute personality assessment that Elite Singles uses to match them with other members
Members must pay to interact with their matches
What I think about Elite Singles:
Let me tell you, Elite Singles doesn't compete with the bigger dating apps and websites out there, like eharmony. Here's why:
Elite Singles' compatibility questionnaire is too general compared to eharmony's
You can only see your compatibility rating and those of your matches when you use the desktop version
Minimum search radius is 50 miles, which means you may be paired with people who live far away
You can only like and view profiles (you have to pay to message people)
Here are our top three dating app recommendations:
eharmony
Tinder
Hinge
– A- BBB rating
– Focused on serious relationships
– 150-point personality report
– Apps for iOS and Android
– 100% member verification (no catfishing)
– 25% off with promo code WSM25
– Billions of potential matches worldwide
– For love, casual dating, and hookups
– No long sign-up process
– Easy, swipe-based matching
– Photo verification
– Focused on serious relationships
– Lots of free features, including messaging
– Algorithm designed to match compatible people
– Prompts encourage conversation
– Hybrid between eharmony and Tinder
What is EliteSingles?
According to its app description, Elite Singles is built for U.S. professionals who want a long-term commitment. It boasts that 85% of Elite Singles members in the U.S. have an "above-average education."
What that means isn't exactly clear, but based on 2019 U.S. Census Bureau data, about 40.7% of the U.S. population had an associate's degree or higher. Despite its claim of being built for professionals, there don't seem to be any education restrictions to joining.
Elite Singles members are in their 30s and 40s.
Despite its claims of exclusivity, readers report more success finding qualified partners, and a larger dating pool, with eharmony, which pioneered in 2000 the model of a dating site based on a lengthy quiz, and algorithmic matching with the goal of long-term, meaningful partnership and marriage.
eharmony also offers:
Free 150-point personality report
Apps for iOS and Android
100% of members are proven to be real (no catfishing or married people!)
3 months free if you aren't happy with your matches!
A- Better Business Bureau rating
Learn more about eharmony in our review.
Still curious about whether or not Elite Singles is a fit for you? Continue reading our review:
How does EliteSingles work?
Right on the homepage, there's a section to register. I input my email address, created a password, and answered the age ole' question: I am a [woman] seeking a [man].
After filling out my birthdate and other generic info, I was immediately prompted to take a personality assessment, made up of a mix of general questions to describe your ideal partner, behavioral questions about yourself, and questions on how you'd respond in hypothetical scenarios.
Sample Questions include:
Which picture describes your mood during an ordinary week?
Which role would you like your partner to fulfill the most?
When you kiss someone, how likely are you to initiate the first kiss?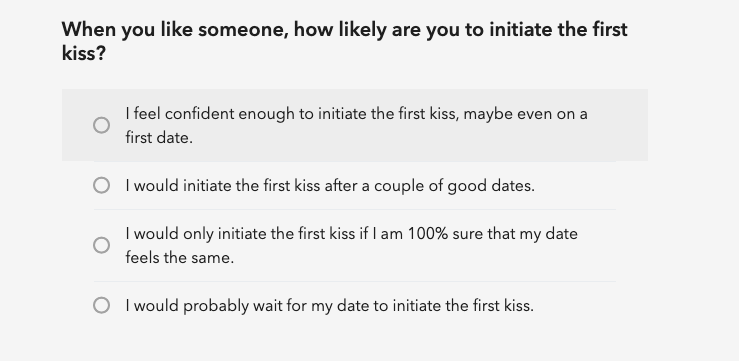 Other questions include general lifestyle questions you see on most dating websites, like:
Whether or not you want kids
What you are looking for in a partner
Whether you smoke or drink
Overall, the personality assessment took me 15 minutes to complete, which is way less time than the one on eharmony. I like that all questions were to the point and I was able to provide enough information to give my potential matches a good sense of who I am.
Once you're done with your personality assessment, you're quickly directed to the payment page. You cannot use this website without paying for a premium membership.
I handed over (err typed) my credit card details for a one-month subscription and then was ready to start searching. Immediately I had matches waiting for me that were "handpicked" for me (a little sus since I just signed up).
One cool thing about Elite Singles is that you can easily update your search preferences at any time (such as height, location etc.) There's also a "how we met" page that works very similar to Tinder where you can swipe through profiles.
Once you've completed the questionnaire, Elite Singles pairs you with members based on a compatibility score of 1 to 100. The higher the score, the higher the likelihood of compatibility for serious dating, according to the Elite Single's algorithm.
When you receive your personality assessment, you notice your results are on a graph that sectioned into five components:
Openness (habitual vs inventive)
Conscientious (agreeable vs disciplined)
Extroversion (introverted vs extroverted)
Agreeableness (cautious vs compassionate)
Neuroticism (emotionally stable vs sensitive)
Overall, my results regarding openness fell in the middle, I was more easy going than disciplined and more introverted than extroverted. The assessment also told me that I was too sensitive (rude) and more cautious, meaning more likely unwilling to compromise (not wrong).
Looking through my matches, the highest score I received with someone was 88 percent, but most scores ranged in the 70s.
When I compared Mr. 88's personality assessment with mine, I noticed we were both in the same level of openness and extraversion, but not so much when it came to agreeableness, neuroticism, and conscientious.
Elite Singles also highlights any personality traits that are similar to yours. When I looked at Mr. 88, I noticed we didn't share any traits in common.
I'm not sure how accurate this algorithm is. I understand nobody is going to match with you 100%, but the lack of profiles within the 80% range makes it less convincing.
I scoped another profile (we'll call him Mr. 80), personality assessment and it was a lot worse.
Our assessments were compatible in that we're both very sensitive and introverted (him more than me), but we were total opposites when it comes to conscientiousness, openness and agreeableness. His profile was also very empty, making it hard to decipher whether or not he was a legit match.
Depending on how honest you are with yourself, you might be shocked at what you learn not only about your personal preferences, but also your values and how you would react when faced with a moral dilemma.
Questions such as, "How important is attractiveness to you?" and "Would you stay with a partner through a life-altering change?" are relevant and highlight a potential match's character — not to mention challenge you to examine your own beliefs.
Because of the depth and number of questions, I'd suggest carving out up to an hour of your time to complete your Elite Singles profile.
One question asks you to rate your level of attractiveness, while another gauges your feelings on raising children.
Elite Singles requirements:
These are the requirements to sign up for Elite Singles:
Who qualifies for EliteSingles?
Despite the name and its reputation for being selective with its members, anyone can sign up and register for EliteSingles. Upon sifting through my matches, I noticed they all had various educational backgrounds.
Many had their bachelor's and master's degrees, while some only had their high school diploma.
Elite Singles is targeted toward singles looking for meaningful connections. Since each member is vetted manually, you'd better make sure you are who you say you are in your profile.
According to their website, EliteSingles actively removes any inactive profiles, as well as profiles that are deemed fake or suspicious. They also make you confirm your email address.
Elite Singles has some rules typical of dating apps, as well as some that qualify Elite Singles as a premium site:
Membership requires you complete an extensive online survey about your interests, values, goals, tastes and preferences
That you are real (a human verifies your identity and photo)
While you can see limited info of other members' profiles for free, and receive a free personality analysis for free, this is a mostly pay-only dating app
---
Before you meet up in person, you may want to do a background check. You can run your date's name through a site like TruthFinder, which will pull all online public records on the person and compile them into an easy-to-read report.
---
What does Elite Singles mean by "above-average education?"
Elite Singles does not specify what it means by reporting 85% of its members hold an above-average education, though it appears to mean that a large percentage of Elite Singles members have enrolled in post-high-school classes, even if they did not attain a degree.
Elite Singles matching:
What kind of people are on Elite Singles?
Elite Singles claims 381,000+ new members join per month. According to their website, 82% of members hold a bachelor's degree, and supposedly every eight minutes someone on Elite Singles finds their soulmate.
Billing itself as a source for professionals who are serious about finding a meaningful romantic match, the idea seems to be that singles willing to spend significant time and money on creating a profile will be more likely to be serious about dating and career.
If you're looking for something casual or have a swipe-and-go mentality, joining Elite Singles is not for you.
The site is geared toward educated professionals and requires a minimum of three months for any of the paid memberships.
What age group is EliteSingles for?
Elite Singles' website claims, "the majority of our members are aged 30-55." As I dug through my matches, I noticed a good chunk of people were in their 30s and 40s.
How much does Elite Singles cost per month?
For a premium membership, there are currently three options.
As of November 2023:
Premium 1-month membership: $54.95 / month
Premium 3-month membership: $37.95 / month
Premium 6-month membership: $27.95 / month
Premium members receive:
Unlimited messaging
View all member photos
"Intelligent matchmaking"
See everyone who visits your profile, and turn on read receipts for your messages
Confirmation of messages received
In the free basic version, you can:
Go through the personality profile and get the results
Create a profile
Match with others
However, with the free version, you won't be able to see anyone's profile photo or send anyone a message. Therefore, the website is pretty useless unless you pay for a membership.
EliteSingles cancellation policy
If you have a premium membership, you can cancel your membership at anytime by clicking the person icon on the top right corner and selecting Account. Under Membership in green you'll see an option to Cancel/Refund Your Membership. You click that and it gives you a ton of reasons for you to choose as to why you're canceling your membership. They'll give you one last chance to change your mind and after you insist that you want to cancel, you input your password. And that's it! You still have access to Elite Singles until your subscription ends.
For mobile users, you'll have to go into your phone's App Store or Google Play account and cancel it from there.
EliteSingles customer service
EliteSingles surprisingly has great customer service. While it's very difficult to find the page to submit a request on their website (I had to Google it), once you fill out the online form, they get back to you quickly. They assist their customers through a platform called Pissed Consumer. I reached out about a question regarding membership and got a response with 24 hours.
Is it worth paying for Elite Singles?
Yes, it is worth paying because as I mentioned before, the free version will get you nowhere. If you want any real traction with Elite Singles, you have to pay.
Pros of Elite Singles
Most people on Elite Singles are looking for serious, long-term committed relationships—including marriage.
Their Thoughtful and concise personality assessment helps their algorithm find better matches for you.
Free personality report. Get a deep analysis of your personality traits after completing the online survey. This is yours to keep, whether you sign up and pay or not.
Website safety: According to the website, Elite Singles checks every user profile for authenticity, by hand, to verify that each user is legitimate—reducing the chances for spam, catfishing, married men posing as single, and other sleazy behavior. The site is also encrypted to protect your data. The site states:
"In order to avoid this on Elite Singles, we manually check each individual profile to guarantee that everyone on our site is serious about the search for love. We use SSL Encryption, Fraud Detection, and Manual Profile Verification to ensure our members feel completely comfortable when using our service."
Cons of Elite Singles
Matches come to you: Unlike other dating sites, Elite Singles doesn't force you to spend endless hours scrolling and matching. Instead, Elite Singles delivers five to seven matches to your inbox per day. If you don't like any of them, you have to wait until the next day for more matches. If you're accustomed to accessing thousands of profiles options at any given time, this can be frustrating. Swipe happy people beware. This method of receiving curated options can, however, force members to consider each suggestion with more thought than they usually would.
Cannot use the app for free
Minimum distance is 50 miles, which is inconvenient for people who are unable to travel
---
Listen to this Like a Mother with Emma Johnson interview with Millionaire Matchmaker Patti Stanger, on dating as a successful single woman:
---
Elite Singles reviews in 2023
Elite Singles reviews are mostly negative. The biggest complaints from reviewers across the board was about canceling their memberships. Members claimed it was hard to cancel and claim that Elite Singles was still charging them long after cancellation.
Other reviewers call it scam, claiming most profiles were fake (again I take those reviews with a grain of salt, since they mostly come from unhappy daters).
App stores
Elite Singles has a 4.2 out of 5-star rating on Apple's App Store from 141 reviews. While there aren't many written reviews, a recent one from 2023 gave it one star, saying that there are a lot of scammers and poor app functionality.
On Google Play, Elite Singles has a rating of 2.0 stars. The most recent negative reviews complain about the site being under a paywall, fake profiles, and app glitches.
BBB
Elite Singles' parent company Spark Networks is not accredited by the Better Business Bureau and with reviewers rating it 1.15 out of 5 stars.
It strangely has an A+ rating. Almost every review about Elite Singles was negative, but someone from Sparks replied to each review, offering feedback and assistance. They accuse the site of making fraudulent charges and continuously charging their credit cards, saying they have difficulty getting a refund.
Trustpilot
Elite Singles has 1.9 out of 5 stars on Trustpilot. Trustpilot reviewers give it 5 stars for customer service experience. Someone also rated it four stars and said they went on many great dates thanks to the website.
Here are a few recent Trustpilot reviews about Elite Singles from those who used it:
Elite Singles reviews from Reddit
Redditors were very critical about Elite Singles on this reddit thread:
Some Redditors thought the profiles on Elite Singles were boring; others warned about the site being a scam and said it's impossible to cancel a subscription (echoing the sentiments of reviews on other sites).
But one Redditor did claim to find their wife on it: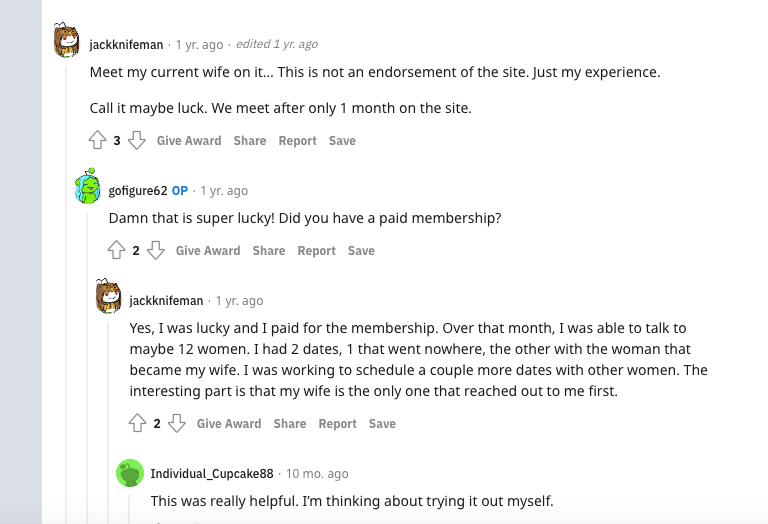 Bianca's experience with EliteSingles
I like any dating app that makes you show off your personality. Elite Singles' personality assessment is quick and direct (sometimes I get bored with the extremely long compatibility quizzes). They ask a good mix of general and behavioral questions, allowing you to express yourself and giving people a good sense of who you are. However, I was disappointed at the lack of compatible options with my matches.
Also, if you're more of a dating app person, you can only see your compatibility rating and those of your matches when you use the desktop version.
Elite Singles' minimum search radius is 50 miles, which means I'm getting matches from people outside of the NYC metro area. Therefore, I'm seeing people who live in MD or NJ — places I will not travel for a first date.
Lastly, I don't like any dating app that makes you pay to interact with other members. I can "like" and view profiles but cannot message anyone. But since you have to pay for every app and website these days, no I don't think it's worth it based on my experiences and what reviews say. Fingers crossed I don't have the same experience as other reviewers and they won't keep charging me!
Bianca Mendez is a dating app expert whose work has appeared in Woman's Health, Bustle, Latina, Refinery29, and many other publications. She also served as a sex and dating editor at Elite Daily. You can check out her other dating app reviews here.
Bottom line: Which is better, eharmony or EliteSingles?
While both eharmony and Elite Singles offer extensive personality questionnaires to gauge your compatibility with potential matches, there are subtle differences between the two:
While Elite Singles' introductory quiz is much more extensive, eharmony's questions are psychology-based.
Both eharmony and Elite Singles are very safe and vet each profile, though eharmony checks to make sure members are not married.
eharmony has been in the U.S. market for more than 20 years, and has great brand recognition, which means more people are on their dating site. More people = more potential matches.
| | | |
| --- | --- | --- |
| November 2023 | Elite Singles | eharmony |
| Method | 200-point personality test, dating preference profile, and free personality report. | 150-point personality test and personality profile. |
| Connection | Serious, long-term, committed relationships. | Serious, long-term, committed relationships. |
| Typical user | 90% are aged 30+,82% have college degrees | Average age: 30 |
| Elite Singles vs. eharmony Costs as of July 2023 | Basic account: $0 | Basic account: $0 |
| Security | SSL-encrypted SLL-encrypted site, each member is verified by a human. | All members must prove who they are, and site has been known to close accounts if they find the member is married, lies about themselves or otherwise violates eharmony's code of conduct. |
| Apps? | iOs and Android | iOs and Android |
| Cool features | Free basic membership. Free personality report. No need to endlessly scroll, as Elite Singles chooses matches for you. | "Quick Questions" option allows users to select questions they would most like matches to answer. Detailed personality profile. |
| BBB | A+ | A- |
The verdict? Both eharmony and Elite Singles are quality dating sites, but eharmony wins for brand and technology strength. Plus, they check to make sure members are not married = golden.
eharmony stands out with:
Higher volume of users, increasing chances of a meaningful match.
Competitive pricing
eharmony is more popular, so there are more members you can potentially match with.
One bit of advice: Each dating site out there attracts different types of people in each geographic area, so ask your friends and singles in your area who you trust which sites they like best in your city. Also, eharmony's free version is a good way to check it out without commitment—even if romantic commitment is your ultimate goal.
Check out eharmony for yourself for free >>
Interested in checking out other dating sites and apps? Here are our dating app reviews:
No time for dating apps? If you have little time, but do have money, consider a professional matchmaker. We review the top sites and explain the process.
What does Elite Singles mean by "above-average education?"
Elite Singles does not specify what it means by reporting 85% of its members hold an above-average education, though it appears to mean that a large percentage of Elite Singles members have enrolled in post-high-school classes, even if they did not attain a degree.
What age group is Elite Singles for?
Elite Singles' website claims, "the majority of our members are aged 30-55."
How much does Elite Singles cost per month?
For a premium membership, there are currently three options as of November 2023: 1-month membership for $54.95 / month; 3-month membership for $37.95 / month; and a 6-month membership for $27.95 / month.
Is it worth paying for Elite Singles?
Yes, it is worth paying because the free version will get you nowhere. If you want any real traction with Elite Singles, you have to pay.