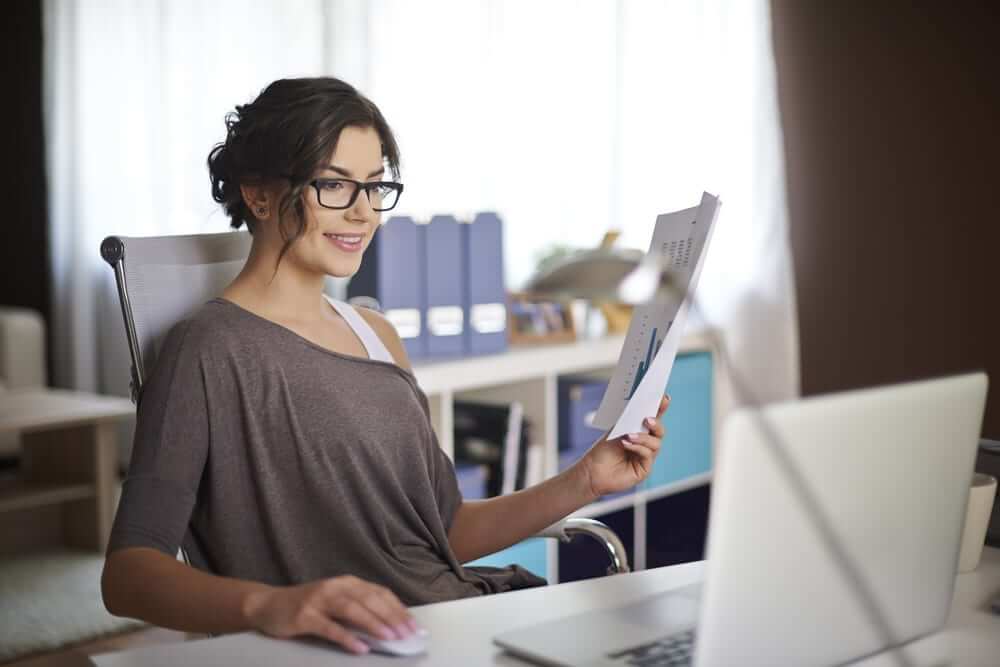 I have been a work at home freelance writer and media professional for the past 15 years.
There is no way that I could manage my family life, business, and personal care without the flexibility my WAH schedule affords me.
Since becoming a mom eight years ago, I have felt so grateful that I have control over my time, location, client-base and general professional happiness.
One of the most common questions I get from readers is:
"How do I find a work-from-home job for single moms?!"
I always tell these women to start with FlexJobs, the leading job board for telecommuting, part-time, flexible-time, work from home, and other alternative work arrangements that make such a big difference in families' lives.
6 work-from-home jobs
Why work from home as a mom?
When I urge moms to keep a foot in the professional world, I often get a lot of pushback.
I hear that it's impossible to maintain a career in less than 50 hours per week, or that childcare is prohibitively expensive.
I am fortunate that I found a career early on that allows me to do all of the above and also support a family.
Nearly every industry is moving towards contract and freelance work, while part-time and telecommuting positions are on the rise.
There are tons of opportunities out there — and countless ways to make your own opportunities.
Don't get me wrong, it is always a struggle to do the single-mom juggle.
But if you have a grip on your time, the chaos goes down, your quality of life goes up.
Studies find the majority of professional moms prefer to work — but also identify the ideal work situation to include more family time and a flexible schedule.
Where do you find these jobs? The answer surprises many people.
Most people know that customer service and data entry jobs are largely done virtually.
But did you know that if you need to call your pediatrician's after-hours nurse line, those nurses are most likely working from home offices?
Virtual nurses–it's true! And that's just the tip of the iceberg.
I'm thrilled when women report they found work at home jobs for single moms.
I want this for you, too.
work-from-home jobs for moms:
Thanks to the Internet, there are a lot of jobs which are going strictly online, which means a lot of opportunities for moms to work at home.
Here is a sampling of 8 work-at-home jobs in a range of industries.
These jobs range from entry-level to experienced.
Rideshare Driving
When it comes to earning extra money there are two rules: Work with what you have, and maximize your hourly rate.
That is one of the reasons driving for ridesharing companies like Uber and Lyft are so popular with moms: You use what you have (extra time, a car), and you can make a great hourly rate.
Best of all, rideshare driving is entirely flexible, as you work when you want, which is so important for busy single moms.
You can read more of my thoughts about driving as a single mom with Uber and Lyft in my pros and cons of rideshare driving post.
Web Search Evaluator
Working with companies to improve their search engine results and performance, Web Search Evaluators work part-time, flexible schedules.
For moms who are avid Internet users with experience using different web browsers and navigating a variety of content, these jobs are ideal.
The best candidates also have a broad interest and current knowledge of web-based culture, media, sports, news, and business.
You'll run searches and evaluate results, applying the standards you've learned during the training and practice periods offered by these employers.
Virtual Admin
I recently hired Jess, my first VA and she has changed my life. Virtual Admins or VAs as they are often referred to, provide administrative support to companies, agencies, or even individuals (like me!), either on a freelance contract basis or as a telecommuting employee role.
Moms interested in working from home as virtual admins can also create their own businesses and offer a variety of virtual services like customer service, accounting, scheduling, word processing and sales-related support tasks.
Related job titles to be on the lookout for include administrative assistant and customer service representative.
Copywriter
Copywriting is a special form of writing that involves writing a promotional website or print content to help a business earn more revenue for their products and services.
Copywriters are also expected to provide useful, informative information related to a particular subject or product. Similar job titles include copy editor, online marketer, content writer, and freelance writer.
If you're a mom with a strong sales background and excellent writing skills, then copywriting may be a great avenue to earn additional money on a freelance, work-from-home basis.
Some of the top copywriters earn more than $100 per hour.
Social Media Manager
If you spend a LOT of time on social media, understand the ins-and-outs of each platform, and have experience managing this type of marketing for companies, virtual social media management jobs are a great option.
People who do well in these jobs like to engage people in lively conversation and provide interesting links to articles, videos, and other media to attract website visitors to a company's website or try out a product or service.
Excellent customer service and communication skills are a must for these positions, which offer part-time or full-time schedules, and freelance options.
Other job titles include community manager, multimedia coordinator, social media specialist, and social media copywriter.
One of my best friends was a full-time stay-at-home mom for a decade, and then started freelancing as a social media manager, since she was really into Pinterest.
Fast-forward a few years, and today her social media agency positions her as her family breadwinner and is poised to bring in $400,000 this year. BOSS BITCH.
Corporate Travel Consultant
Credit card companies travel, and hospitality companies hire travel consultants to assist corporate clients with travel planning, booking, itineraries, and emergency assistance.
These jobs are completely virtual, requiring the consultant to work over phone, email, chat, and sometimes social media.
With full-time and part-time schedules, moms with excellent customer service skills and a desire to help others will find success in these roles. Perk: This job makes it easy to keep your eye on travel deals!
Work-at-home corporate Travel jobs >>
Translator/Interpreter
Translators, also hired as interpreters, are fluent in more than one language, ranging from something as common as Spanish to as unique as Tamil.
These people with medical and legal organizations, publishing houses, educational institutions, television and movie production companies, and other businesses. and are responsible for helping two or more parties communicate through language barriers.
For medical and legal translation, experience in the medical or legal fields is a must.
Translator/Interpreter jobs >>
Virtual Teacher
For moms with experience in teaching and education, or just a desire to get started in this field, VIPKID is a great place to start.
VIPKID provides an international learning experience to children in China between the ages 4-12.
Headquartered in Beijing, the company offers fully immersive one-on-one English language instruction provided online by highly qualified teachers.
One perk of VIPKID is no lesson planning is required, teachers can prepare for class by reviewing the class materials beforehand in the teacher portal.
The typical certifications and teaching experience are required for virtual teaching jobs, and related job titles include a high school teacher, virtual teacher, course mentor, student mentor.
To apply for VIPKID you must at least have a bachelor's degree.
When applying for online teaching jobs you should be able to relate well to students and be able to utilize the phone, internet, computer, email and instant messenger to communicate.
Read my VIPKID review here.
If you're considering a work-from-home job, be open to the variety of surprising opportunities out there.
For the chance to ditch your commute, spend more time with your kids, and even find a little time to relax yourself, ask your employer, friends, and neighbors about how they found their telecommute jobs.
Other job titles to search for include language tutor, business translator, telephone interpreter, medical interpreter, and captioner.
30 reasons why working from home is such a great arrangement for moms — especially single:
  When the school calls to tell me my kid is sick, I rarely panic. Instead, I pick them up, drive them home, tuck them into bed with the various remedies, videos, and books. While the recuperate or nap, I can usually work nearby.
  A bazillion snow days last year did not ruin my life.
  Countless half-days of school (really, can't the schools be open for a full week already!?) don't require Olympic feats of schedule re-arranging.
  When my mom came to visit last month I skipped out of work in the middle of the morning to pick her up at the airport. Nothing like working your own hours, on your own terms.
When my mom came to visit I kept Lucas home from school that day. He joined me at La Guardia Airport (super-exciting for a 4-year-old!) and then spend the day with his grandma.
 I can throw the requisite piñata birthday party at the daycare at 2 p.m. on a Wednesday.
 Every day I enjoy making myself a chopped salad lunch in my own kitchen. Not only does this make me happy, it saves money from eating out with co-workers on a daily basis.
  I don't spend a lot of money on clothes or time shopping for clothes because I don't need them. The cat could give a crap what I wear to work.
 I can run to the post office in the middle of the morning when there are no lines.
I exercise almost every day during business hours.
I use business hours to get my hair cut.
I use business hours to go to the gyno.
I use business hours to shop for the kids' birthday gifts and hide them throughout the house.
I can meet a friend for breakfast and didn't have to lie to the boss about my car not starting.
I drop off my kids at school most days.
I pick up my kids from school most days.
I'm room-mother for my daughter's class and chaperone them on school field trips once or twice per year.
Because I'm home all the time I'm friendly with the mailman. And FedEx guy, my super, the servers in the cafe downstairs from my apartment and my elderly neighbors — all of which makes my neighborhood feel like home.
I sign for my neighbor's UPS delivery which makes me happy.
When I have a hankering for pasta e Fagioli soup in the middle of the morning I start simmering the beans right then and there so it was ready for that evening's supper.
Because I'm self-employed I have total flexibility to try out new things in my business like building out my radio show and list-building promotions. I have total freedom and the resulting fun. Also:
Last year I spent a bunch of money on a redesign, marketing course, and new headshots. And I don't have to validate those decisions to anyone.
This month I signed a few new clients and can afford to set really, really high-income goals because I don't have a boss to tell me what my salary is limited to.
Helped out a half-dozen professional contacts in varying capacities because that is what I like to do and that is how you grow a business (but is harder to do when your time is committed to an employer).
Every week I spend business hours investing unbillable hours in my business: receiving media training, hosting a radio show, blogging, joining networking meetings — all things that, again, can be tough to justify to a boss but are critical to professional success.
Do what I want to do at work to do every day.
Make pediatrician and dentist appointments for my kids and didn't worry about taking off work.
Felt my heartbreak when a mom told me she "doesn't really know what is going on" in her daughter's life because she and her husband get home from work at 6, and even that doesn't leave much time for casual chatting.
Wore comfortable (or no) shoes nearly every day.
Feel proud that I set a positive example of work and business and life for my children.
How to carve your own path (start today!)
Interested in being a work-at-home freelance single mom? Not even sure where to begin because you're now discovering there are almost too many opportunities?
Here is the rundown of how I got started:
I bought a domain name (that is the URL of your blog, like WealthySingleMommy.com) at GoDaddy.com
I then signed up with BlueHost as my server (if your blog is a house, the host/server is the town in which it resides).
Like most personal blogs, mine is built on WordPress. Make sure you go with WordPress.ORG (not .com). This is really important. It would be really lame if my URL was www.wealthysingleommy.blogspot.com. You don't want that.
Then you need a basic design. No need to spend a bunch of money when you start out. I bought an affordable one at Elegant Themes — they have lots of really pretty ones.
Sign up for a service to collect email addresses and send emails. I use Aweber, one of the most popular services. I like it because it is easy to use and has lots of design options.
Images on your blog are at least as important as the words. People are visual before they are linguistic (think of your kids – they could identify stuff by sight before words). I like DepositPhotos for buying photos and other images.
When it comes to building the actual business, I started using QuickBooks, which is awesome (for years and years I had a really ghetto accounting system involving an Excel worksheet, Word doc invoices, and email.
Negative!). Seriously, Quickbooks looks awesome, is super-easy to use and helps me keep track of all the money I make.
If you're not a fan of creating your own business or working for yourself, there are PLENTY of options for working at home as a single mom.
TOP 100 COMPANIES OFFERING WORK AT HOME JOBS (WHICH ARE MOMMY-APPROVED)
Most of these companies post positions on FlexJobs, which reports the top industries with telecommute positions are IT, healthcare and sales.
These run the range from entry-level gigs to full-time staff positions with high salaries; all that you can do mostly from home.
Are you a stay-at-home mom terrified about re-entering the workforce?
Don't be. Here's some practical advice about getting into the game — and into a professional career that you love after staying home with children.
Want to explore more work at home jobs? Check out FlexJobs deep listings here.
These are only a handful of the hundreds of companies who will allow you to work-from-home, but maybe you don't want to be tied to the company.
Maybe you want to start your own business. That's great, too! I'm obviously an advocate.
DO YOU HAVE A GREAT WORK AT HOME JOB? WHAT IS THE COMPANY? ARE THEY HIRING? SHARE IN THE COMMENTS!
Emma Johnson is a veteran money writer, noted blogger, bestselling author and an host of the award-winning podcast, Like a Mother with Emma Johnson. A former Associated Press Financial Wire reporter and MSN Money columnist, Emma has written for the New York Times, Wall Street Journal, Forbes, Glamour, Oprah.com, REAL SIMPLE, Parenting, USA Today and others.
The Kickass Single Mom: Be Financially Independent, Discover Your Sexiest Self, and Raise Fabulous, Happy Children (Penguin, 2017), was a #1 bestseller and was featured in hundreds of media, including The New York Times, Wall Street Journal, Fox & Friends, Oprah.com and the New York Post, which named it to its 'Must Read" list.
Her popular blog Wealthysinglemommy.com, and podcast Like a Mother, explore issues facing professional single moms: business and career, money, sex, relationships and parenting. Emma regularly comments on these topics for outlets such as CNN, Headline News, New York Times, Wall Street Journal, Fox & Friends, CNBC, NPR, TIME, MONEY, O, The Oprah Magazine, Woman's Day, The Doctors, and many more. She was named Parents magazine's "Best of the Web," one of "20 Personal Finance Influencers to Follow on Twitter" by AOL DailyFinance, "Top 15 Personal Finance Podcasts" by U.S. News, and "Most Eligible New Yorkers" by New York Observer.
A popular speaker on gender equality, Emma presented at the United Nations Summit for Gender Equality.
Emma grew up in Sycamore, Ill., and lives in New York City with her children.