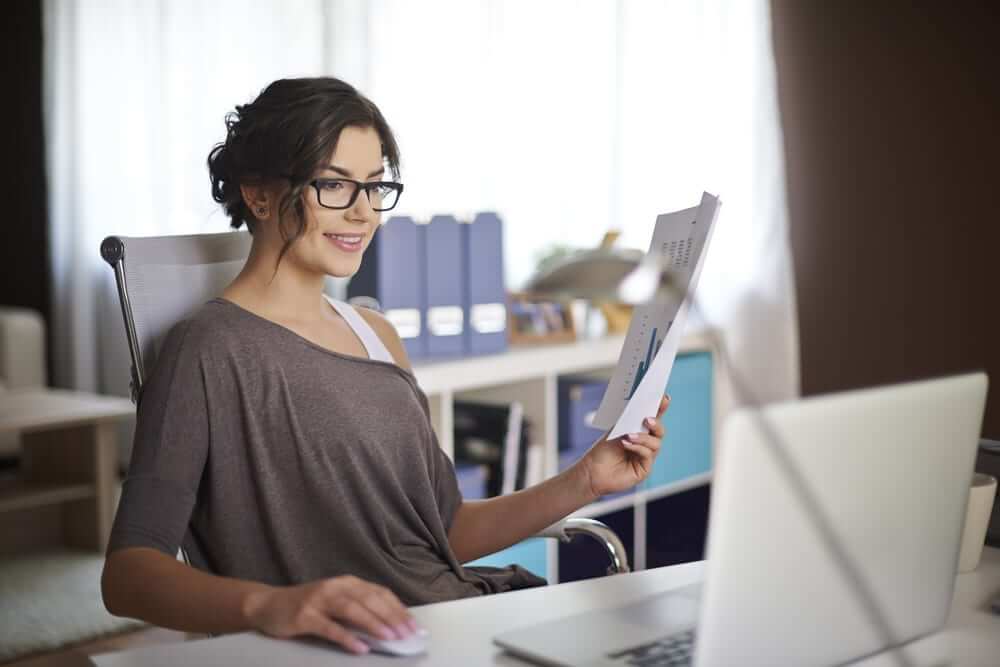 Best highly paid work-from-home jobs and careers for single moms
I have been a work at home freelance writer and media professional for 15 years.
There is no way that I could manage my family life, business, and personal care without the flexibility my WAH schedule affords me.
Since becoming a mom eight years ago, I have felt so grateful that I have control over my time, location, client-base and general professional happiness.
One of the most common questions I get from readers is:
"How do I find a work-from-home job for moms?! What if I don't have a degree?"
Online jobs and remote work-from-home careers for moms:
Other job opportunities you can work at home:
Companies hiring for legitimate online, home-based jobs:
Online jobs and remote work-from-home careers for moms
Bookkeeper: One of the best online jobs (without a degree)
Bookkeepers can earn a salary, or build a business earning $60+/ hour, which can be more than $100,000 per year. Entry-level bookkeeper jobs can pay $20/hour.
The job description for bookkeepers includes organizing financial transactions, tax information, and "the books" for their clients. They also update financial statements, read over financial documents for accuracy, and create reports.
If there is a problem with a statement or a miscalculation within their client's numbers, it's the bookkeeper's job to find it.
While bookkeeping can be an in-house job, more and more companies are turning to bookkeepers who work from home. Bloggers and influencers hire bookkeepers that work virtually, as do companies that don't work out of a brick-and-mortar office. Because most bookkeeping tasks are done online, many small businesses also hire work at home bookkeepers to keep their overhead down.
Bookkeeper Business Launch is an online video course that helps people with zero experience learn bookkeeping skills, find new clients and build a successful online bookkeeper business — from home. Check out Bookkeeper Business Launch now and get $300 off with code WSM300 >>
How to start a bookkeeping business at home
Get all the low-down on how to become a bookkeeper, how much you can earn, get your first client and grow your business in this post.
Proofreader: One of the best online jobs (without a degree)
According to ZipRecruiter, freelance proofreaders earn an average of $56,762 a year in the United States or an average of $27/hour, with entry-level online proofreader jobs starting at $15/hour.
Proofreaders are great for people who are good writers with attention to detail. Tasks include reading over copy written for businesses, academia or others, to find spelling, grammar or style errors.
To become a proofreader with no experience, we recommend the Proofread Anywhere course, which help you learn the skills to become a successful proofreader, find new clients and establish a successful business from home.
Proofread Anywhere offers a FREE workshop to find out if you have what it takes to be a proofreader. The great news is these workshops are on-demand, so register for free here now >>
Other job opportunities you can work at home
While Covid-19 closed many businesses and resulted in layoffs, and many parents were forced to quick their jobs because of lack of child care. Thankfully, there are many opportunities to work at home, in part thanks to an increased acceptance of remote work during this pandemic.
Accounting jobs
Every business, and most individuals need an accountant at some point — and much of the work can be done remotely, from home. Whether you are a CPA, bookkeeper or accounting assistant, there are many opportunities in a wide variety of industries, for all levels of education and experience.
FlexJobs – A paid job board with career-level positions, including accounting
ZipRecruiter – Large job site with many positions at all levels
Blogger
Thousands of moms make a good living as a blogger, working at home. I am one of them!
The best part of blogging is that the upside income is enormous, but the startup fees and time are manageable. You can start small, part-time, and scale up to hire a full staff. The best part is that blogging is a fun, creative and extremely flexible career path. It allows you to spend time on topics and skills you enjoy and care about, as well as try out new ones.
Bonus is that the skills you learn blogging easily transfer to other careers, including social media manager, digital marketer, freelance writer, project management, copywriter, designer, coder and many others.
Read my mega-post on How to start a blog in 1 hour, and start earning money quickly or you can start a blog now with Bluehost.
You'll also need support from tools and apps. My favorite 57 tools for work-at-home workers, including social media graphics, business contracts and incorporation, tools to build a website, bookkeeping software, and more.
Child care provider jobs
Childcare providers take care of kids in their own homes, daycare centers, or client's homes.
They watch over them and keep them safe, entertain them with games and toys, and foster educational activities to nourish their growing minds.
What is a child care provider?
"Child care provider" is a term that describes anyone who takes care of children as the bulk of their work. Some child care providers work in daycare centers. These workers usually work stable hours and for an hourly rate, and some may even receive benefits.
Child care providers may also choose to open a daycare center in their home. In this case, they may decide to watch several children in addition to their own (if they have any), while some work for someone else watching their children as nannies, or sporadic babysitting for an hourly rate.
What kind of tasks do child care providers do?
The job duties child care providers perform vary widely based on their position and the age of the children they care for:
Supervise children and monitoring them for safety
Prepare meals and snacks
Change diapers
Administer medication to children
Organize games and activities
Help children with hygiene, such as brushing their teeth or bathing
Plan and initiate naps and nap times
Help children learn through reading or educational games
Teach children good manners
Drive children to appointments or activities
Care for sick children in some cases
Nannies who work for a single-family may be asked to take on basic cleaning and laundry for the family they work for during their downtime. They may also be asked to come along on family vacation and run errands such as picking up dry cleaning.
What skills do you need to be a nanny or childcare provider?
The good news about starting a career in childcare is that, most of the time, a formal education is not required. Many employers prefer candidates with some college or a degree in childhood development or education, but that doesn't mean you need this education to find full-time work.
The requirements for this job really depend on the type of daycare position you desire. For example, The Bureau of Labor Statistics (BLS) notes that many states require private, in-home daycare centers to become licensed.
To qualify for licensure, you likely need to pass a background check and have an up-to-date record of immunizations. You may also need to meet a minimum training requirement and be certified in CPR.
Some states also require childcare workers to earn a credential such as the Child Development Associate (CDA) credential offered by the Council for Professional Recognition. This credential requires some coursework along with childcare experience.
How much do child care providers earn?
How much you'll earn as a child care provider depends on an array of factors such as the type of job you take, whether open your own daycare, and whether you work as a nanny in a family's home.
Your salary can also depend on how many kids you watch and the ages of the children. Providers caring for an infant can charge a lot more than those watching a toddler or school-age child, for example.
Still, there are some average pay rates to be aware of. According to the 2017 Care.com Babysitter Survey, the average rate for babysitting was $13.97 per hour nationally in 2016. Since this is a national average, however, it could be totally different where you live.
A report from Payscale.com says that the average nanny earns a median income of $14.60 per hour. According to Care.com, the salary for a nanny with college education can be significantly higher and usually above $16 per hour, however.
Advantages of working as a child care provider:
You get to work with children and provide them with important care
You may not need a lot of education to get started
You can earn more with more experience, college education, and credentials
You may be able to work flexible hours
You can "be your own boss" by opening a daycare in your home
Child care is in demand, which may make it easier to find a job
You may be able to bring your own children with you on the job
Disadvantages of working as a child care provider:
Caring for children can be stressful and demanding
Pay in this field isn't as high as some other fields
If you work for yourself as an in-home provider or babysitter, you won't receive workplace benefits such as a 401(k) match or health insurance
You will have to negotiate your pay and the terms of your work on your own in most cases
Not everyone wants to open a daycare in their own home due to added stress and the potential for wear and tear
Clinical research coordinator jobs
Clinical research coordinators oversee and assist with a wide range of experiments and clinical trials. They perform administrative tasks such as data entry and documentation, but they also conduct a lot of research to prepare for clinical trials and other experiments.
Clinical research coordinators also spend long periods of time researching and brainstorming potential experiments and conducting interviews to find out which experiments may be feasible. Finally, they follow up after experiments are complete to study and report any findings.
The Bureau of Labor Statistics notes that natural science managers (the official term for this career chosen by the BLS) earned an annual median wage of $118,970 in 2017. However, many clinical research coordinators earned a lot more.
If you're interested in medical research and think this job could be a good fit, an online position could be ideal for your lifestyle and goals. Make sure to check out traditional job boards to check for open positions.
This post has everything you need to know about how to get started as a clinical research coordinator, how much you can earn, and where to find jobs.
Corporate travel consultant
Credit card companies, travel firms, and hospitality-related businesses hire travel consultants to assist corporate clients with travel planning, booking itineraries, and emergency assistance.
These jobs are completely virtual, requiring the consultant to work over phone or through email, chat, and sometimes social media. During Covid pandemic quarantine, there was a deep lull in this work, but has since picked up.
With full-time and part-time schedules, moms with excellent customer service skills and a desire to help others will find success in these roles.
While corporate travel jobs may pay a lower rate per hour than some of the other jobs on this list (usually in the $15 to $20 per hour range), the fact you may work flexible hours makes it easy to pair this job with another job you can do from home. Another perk: This job makes it easy to keep your eye on travel deals!
Work-at-home corporate travel jobs >>
Customer service chat jobs
Using phone and chat, customer service jobs are often done remotely from the parent company — including from your home. Work from home customer service and chat jobs can be found at:
FlexJobs – A paid job board with career-level positions
ZipRecruiter – Large job site with many positions at all levels
Grant writing jobs
Salaried grant writers who write proposals for non-profit organizations average $45,000 per year, though freelance grant writers working remotely from home, online can earn $50/ hour or more.
Grant writers pull together the applications businesses and nonprofits use to apply for grants from public and private foundations.
These individuals read through grant applications, draft intriguing and informative proposals, and work with donors to ensure the clients they work for have a solid chance at the grants they're applying for.
This job requires excellent writing skills as well as the ability to conduct thorough research. Grant writers also need to be organized and have excellent communication skills since they will need to interact and chat with clients and potential donors frequently.
Payscale.com figures show that grant writers are currently earning approximately $45,757 per year. However, self-employed grant writers who are good with their time may be able to earn significantly more.
If you're considering a job as a grant writer, check the big online job boards such as Indeed.com and CareerBuilder. You can also reach out to local nonprofits and organizations that are likely to qualify for grants to see if they need help. Last but not least, set up profiles on job boards such as Fiverr.com and Steady, so you can connect with businesses and individuals who might be applying for grants.
Learn the ropes of grant writing, how to get your first job, and how much you can earn on this post.
Nearly any business you build from home requires a basic website that you can build yourself. I built a few basic websites for myself and others and have made a ton of money from very basic WordPress blogs.
I elaborate on how to get started building your own website, but the first thing you need to do is buy your domain name, a.k.a. your website name, or URL (like wealthysinglemommy.com).
You can buy a URL at BlueHost, which will also host your website, for fees starting at $3.95/month AND register your domain name FREE for one year. Get your business started with BlueHost now >>
Graphic designer jobs
Graphic designers create the visual effects and artwork that businesses use in brochures, print media, and web pages found online.
These professionals need to have an eye for creativity and some experience using software programs. You don't necessarily need a college degree, but you do need to master photo editing programs as well as software programs like Canva.
While the Bureau of Labor Statistics says graphic designers earn a little less than $50,000 per year on average, their figures don't reflect the many online design jobs available today. I personally know graphic designers who design the pages for websites and earn upwards of $100 per hour! That's a lot of money, and it just shows how much potential there is in this field.
If you're looking for a job designing for websites and other media, start with online job boards such as Indeed.com, Glassdoor.com, ZipRecruiter.com, and CareerBuilder.
Think graphic design is the at-home career for you? Read this post on how to get started, find your first client, build a portfolio and make coin as a graphic designer.
Healthcare/medical jobs
The medical industry has many opportunities to work from home, including medical billing, case management, telephone triage, clinical research assistants and coordinators, customer service, general administrative support and many others. Some jobs require special training, a degree or certificate, while others do not.
Work from home medical and health jobs can be found at:
FlexJobs health care jobs
Marketing jobs
Marketing jobs can include managing social media, data entry, marketing coordinators and managers, and much more — most of which can be done from home, remotely. Search for online, remote marketing positions at:
FlexJobs marketing positions
Nursing jobs
As telehealth grows in demand, popularity and offerings, more and more nurses of all specialties are required to fulfill positions that allow them to work from home. Employers might include managed care / insurance companies, telehealth providers, clinical trial coordinators and more.
FlexJobs remote nurse positions
Programming/coding jobs
Coders and programmers build all the software or hardware code to create anything from a website, to an app, to the hardware of a phone, laptop or game console. This is an in-demand field, where salaries easily top $80,000, and can go up to $200,000 or more with experience (though degree are not always required).
Even programmers who work for large corporations often work remote, online, from home.
To become a coder, there are free and paid online courses via Harvard's edX or Code Academy. From there, you'll want to learn how to build websites using source code—which you can teach yourself.
Sales jobs
Nearly every industry needs sales people, and much of this work can be done from home, and remotely. There are many opportunities for entry-level sales, including those that do not require special training or education.
FlexJobs at-home sales positions
Transcription, typing and data-entry jobs
If you are an accurate, fast typer and can meet deadlines there is unlimited work for you in the field of data-entry and transcription.
These jobs can involve a variety of tasks, and require fast, accurate typing, fast internet, familiarity with software like Microsoft Office and G Suite. Data entry gigs can be found at:
1. AccuTran Global
2. Axion Data Entry Services
3. Birch Creek Communications
4. Clickworker
5. DionData Solutions
6. The Smart Crowd
7. SigTrack
8. Microworkers
9. Amazon mTurk
10. Working Solutions
FlexJobs at-home data-entry and transcription positions
Translator or interpreter jobs
Interpreters and translators are hired to translate one language into another, either by listening and reporting in another language verbally or by translating a language using the written word by hand.
These people work with medical and legal organizations, publishing houses, educational institutions, television and movie production companies, and other businesses, and are responsible for helping two or more parties communicate through language barriers.
For medical and legal translation, experience in the medical or legal fields is a must. However, the biggest requirement for this job is absolute fluency in at least two languages.
The Bureau of Labor Statistics reports that, through the decade ending in 2026, jobs for interpreters and translators should increase by 18%. Approximately 22% of interpreters are also self-employed since this job is one that can easily be done from home.
Translator/Interpreter jobs >>
Virtual assistant jobs
While most entry-level VAs start earning around $20 per hour, experienced Virtual Assistants can earn upwards of $75 per hour. Keep in mind that salaried executive assistants at top corporations can earn $200,000 per year or more — these are important jobs!
These professionals perform virtual services like customer service, accounting, scheduling, word processing, and sales-related support tasks. Virtual assistants can also be social media managers, create content for Pinterest, Instagram, Facebook, as well as email campaigns.

10KVA is a course that helps people with no degree or experience learn the skills to be and grow a VA business online from home — earning $10,000 per month or more, remotely from home.
Related job titles to be on the lookout for include administrative assistant and customer service representative. Make sure to check job boards like Steady and FlexJobs, the free app for side gigs and work-at-home jobs. If you need to build up your skills first, 10K VA is an affordable online video course that teaches you how to launch and grow a virtual assistant business. Check out 10KVA now >>
Virtual assistants can earn a lot more than you think. While most VAs start in the $15 to $25 per hour range, experienced VAs with a lot of skills can earn upwards of $75 per hour.
Learn more about what it takes to become a virtual assistant on this post.
Virtual Assistant jobs on FlexJobs, a paid job site for at-home careers >>
(Virtual) event planner
Event planners are the professionals hired to coordinate large office parties, corporate retreats and meetings, weddings, and other events for large groups.
These workers handle the intimate details of each occasion, booking guests, speakers, vendors, sponsors, meals, travel plans, décor, media production, public relations, sales, and entertainment.
While job duties can vary depending on the type of events they work on, many event planning duties can be completed from home. You can contact vendors and set meetings with clients from home, for example. You will likely have to travel to be on-site often, however, since you'll need to help choose locations for your event. You'll also need to be present to coordinate the details of each event as it unfolds.
Since much of the work these professionals do is for individual clients, many event planners have the flexibility to run their businesses on a freelance basis out of their homes. However, also keep in mind that large corporations that host many events may keep an event planner on staff.
Today, there is an increase demand for professionals who can coordinate remote or virtual online events, conferences and summits.
Find postings for virtual event planners now >>
What skills do you need to be an event planner?
According to the Bureau of Labor Statistics (BLS), many event planners have a bachelor's degree, though that certainly is not required, as workplace experience in hospitality or a related field is very valuable in this industry.
While certification isn't necessary, earning advanced credentials can help you stand out against your competition.
You can pick up the Certified Meeting Professional (CMP) credential as a meeting and convention planner, for example. If you plan government meetings and events, on the other hand, the Society of Government Meeting Professionals (SGMP) offers the Certified Government Meeting Professional (CGMP) designation that you may want to look into. Additional certifications for event planners that focus on s are offered through the American Association of Certified Planners and the Association of Certified Professional Consultants.
How much do event planners earn?
The BLS reports that, as of May 2017, meeting, convention, and event planners earned a median annual wage of $48,290. However, the most successful professionals — or the top 10% in this field — earned wages closer to $82,980. Many top corporate event planners earn in the multiple $100,000s, and charge more than $200 per hour.
Find virtual event-planning jobs with FlexOffers, the leading career site for remote, flexible and at-home jobs>>
Virtual social media manager jobs
If you spend a lot of time on social media, understand the ins-and-outs of each platform, and have experience managing this type of marketing for companies, virtual social media management jobs are a great option.
People who do well in these jobs like to engage people in lively conversation and provide interesting links to articles, videos, and other media to attract website visitors to a company's website or try out a product or service.
Excellent customer service and communication skills are a must for these positions, which offer part-time or full-time schedules and freelance options.
As you search the Steady app, and job boards for social media management positions, other job titles include community manager, multimedia coordinator, social media specialist, and social media copywriter.
One of my best friends was a full-time stay-at-home mom for a decade before she started freelancing as a social media manager since she was really into Pinterest. Fast forward a few years, and today her social media agency positions her as her family breadwinner. She is even poised to bring in $400,000 this year. BOSS BITCH.
Writing and copywriting jobs
Many sites need copywriters to create blog posts, marketing material or other written content — all from home. Check out current writing jobs and gigs from FlexOffers.
Copywriting is a special form of writing that involves writing a promotional website or print content to help a business earn more revenue for their products and services.
When you think of copywriting, remember that every online ad, brochure, or mailer you receive was written by someone. Chances are, the copy you read on various advertisements was written by a copywriter.
Copywriters are expected to provide useful, informative information related to a particular subject or product. As you search job boards like Steady app for copywriting jobs, similar job titles to keep your eye out for include copy editor, online marketer, content writer, and freelance writer.
If you're a mom with a strong sales background and excellent writing skills, then copywriting may be a great avenue to earn additional money on a freelance, work-from-home basis.
Some of the top copywriters earn more than $100 per hour, and even beginner copywriters can easily bring in $30 to $60 per hour. The best part about copywriting, however, is that you can usually do this job at home and on your own time.
Companies hiring for legitimate online, home-based jobs
The COVID-19 pandemic is revolutionizing the workforce, and embracing the fact that many jobs do not have to be one in an office — and companies love the savings on office space, plus new access to quality workers (you!) all around the country. Here are some major corporations that have expanded their online job hiring:
Amazon online jobs
Apple online jobs
Google online jobs
Walmart online jobs
Find online jobs at Walmart >>
Where to find even more online jobs: ZipRecruiter
100 MORE COMPANIES OFFERING WORK AT HOME JOBS (MOMMY-APPROVED)
Most of these companies post positions on FlexJobs, which reports the top industries with telecommute positions are IT, healthcare and sales.
These run the range from entry-level gigs to full-time staff positions with high salaries; all that you can do mostly from home.
EXL*
These are only a handful of the hundreds of companies that will allow you to work-from-home, but maybe you don't want to be tied to the company.
How to start an at-home business
Maybe you want to start your own business. That's great, too! I'm obviously an advocate.
Want to earn more money and be your own boss? Learn how to start an at-home business.
Here is the rundown of how I got started:
Build a website for cheap
1. Buy a domain name (example: Wealthysinglemommy.com). Find one here at BlueHost before someone else does.
2. BlueHost also is a web host — which will give your site a place to live (if your blog is a house, the host/server is the town in which it resides). BlueHost offers a FREE domain name for one year, and hosting services start at $2.95/month.
FREE Domain Name for 1st Year
FREE SSL Certificate Included
1-Click WordPress Install
24/7 Support
Like most personal blogs, mine is built on WordPress. Make sure you go with WordPress.ORG (not .com — I made this mistake). This is really important. It would be really lame if my URL was www.wealthysingleommy.blogspot.com. You don't want that.
BlueHost specializes in working with WordPress and has a 1-click install plugin that makes it easy for anyone to set up their own blog.
3. Then you need a basic design. No need to spend a bunch of money when you start out. I bought an affordable one at Elegant Themes — they have lots of really pretty ones.
4. Sign up for a service to collect email addresses and send emails. I use Aweber, one of the most popular services. I like it because it is easy to use and has lots of design options.
5. Images on your blog are at least as important as the words. People are visual before they are linguistic (think of your kids – they could identify stuff by sight before words). I like DepositPhotos for buying photos and other images.
6. When it comes to building the actual business, I started using QuickBooks, which is awesome (for years and years I had a really ghetto accounting system involving an Excel worksheet, Word doc invoices, and email. Negative!).
Seriously, Quickbooks looks awesome, is super-easy to use and helps me keep track of all the money I make.
Ready to launch your website? I give you easy, step-by-step instructions in this post: How to quickly launch a website and get 1,000 monthly visitors
Already have a site and ready to invest in new software and tools to grow profits? Here is my guild for at-home business tools.
7. Be sure to get all the insurance that you would enjoy as an employee. This includes disability insurance.
You need disability insurance more than life insurance. Those who do not have disability insurance through a job, including the self-employed, can find individual coverage through reputable companies for an affordable price. Breeze disability insurance plans start at $9/month for people aged 18 to 60 years old, with monthly benefits ranging from $500 to $20,000.
Breeze only rarely requires a medical exam. Get a free quote in minutes from Breeze >>
Why work from home as a mom?
When I urge moms to keep one foot in the professional world, I often get a lot of pushback.
I hear that it's impossible to maintain a career if you work less than 50 hours per week, or that childcare is prohibitively expensive.
I am fortunate that I found a career early on that allows me to work hard while also supporting a family. But I am not so special.
Nearly every industry is moving towards contract and freelance work, while part-time and telecommuting positions are on the rise. There are tons of opportunities out there — and countless ways to make your own opportunities.
Don't get me wrong; it is always a struggle to do the single-mom juggle. But if you have a grip on your time, the chaos goes down and your quality of life goes up.
Studies find that the majority of professional moms prefer to work — but also identify the ideal work situation to include more family time and a flexible schedule. Where do you find these jobs? The answer surprises many people.
Most people know that customer service and data entry jobs are largely done virtually. But, did you know that if you need to call your pediatrician's after-hours nurse line, those nurses are most likely working from their own homes? Virtual nurses–it's true! And that's just the tip of the iceberg.
I'm thrilled when women report they found work at home jobs for single moms.
I want this for you, too.
Here I am speaking to Yahoo! Finance about why work-at-home careers are so great for mothers — and how to get started:
The benefits of working from home
If you're considering a work-from-home job, be open to the variety of surprising opportunities out there. You could wind up in a remote position you didn't even know existed, but you may need to be willing to try something new.
If you can find a way to work at home, you would find that the benefits are nearly endless. You could spend more time with your kids, find some time to relax, and ditch your commute altogether. And, who knows? You may wind up earning more than you did in your day job.
30 reasons why working from home is great for moms — especially single moms:
When the school calls to tell me my kid is sick, I rarely panic. Instead, I pick them up, drive them home, tuck them into bed with the various remedies, videos, and books. While they recuperate or nap, I can usually work nearby.
A bazillion snow days last year did not ruin my life.
Countless half-days of school (really, can't the schools be open for a full week already!?) don't require Olympic feats of schedule re-arranging.
When my mom came to visit last month I skipped out of work in the middle of the morning to pick her up at the airport. Nothing like working your own hours, on your own terms.
When my mom came to visit I kept Lucas home from school that day. He joined me at La Guardia Airport (super-exciting for a 4-year-old!) and then spend the day with his grandma.
I can throw the requisite piñata birthday party at the daycare at 2 p.m. on a Wednesday.
Every day I enjoy making myself a chopped salad lunch in my own kitchen. Not only does this make me happy, it saves money from eating out with co-workers on a daily basis.
I don't spend a lot of money on clothes or time shopping for clothes because I don't need them. The cat could give a crap what I wear to work.
I can run to the post office in the middle of the morning when there are no lines.
I exercise almost every day during business hours.
I use business hours to get my hair cut.
I use business hours to go to the gyno.
I use business hours to shop for the kids' birthday gifts and hide them throughout the house.
I can meet a friend for breakfast and didn't have to lie to the boss about my car not starting.
I drop off my kids at school most days.
I pick up my kids from school most days.
I'm room-mother for my daughter's class and chaperone them on school field trips once or twice per year.
Because I'm home all the time I'm friendly with the mailman. And FedEx guy, my super, the servers in the cafe downstairs from my apartment and my elderly neighbors — all of which makes my neighborhood feel like home.
I sign for my neighbor's UPS delivery which makes me happy.
When I have a hankering for pasta e Fagioli soup in the middle of the morning I start simmering the beans right then and there so it was ready for that evening's supper.
Because I'm self-employed I have total flexibility to try out new things in my business like building out my radio show and list-building promotions. I have total freedom and the resulting fun. Also:
Last year I spent a bunch of money on a redesign, marketing course, and new headshots. And I don't have to validate those decisions to anyone.
This month I signed a few new clients and can afford to set really, really high-income goals because I don't have a boss to tell me what my salary is limited to.
Helped out a half-dozen professional contacts in varying capacities because that is what I like to do and that is how you grow a business (but is harder to do when your time is committed to an employer).
Every week I spend business hours investing unbillable hours in my business: receiving media training, hosting a radio show, blogging, joining networking meetings — all things that, again, can be tough to justify to a boss but are critical to professional success.
Do what I want to do at work to do every day.
Make pediatrician and dentist appointments for my kids and didn't worry about taking off work.
Felt my heartbreak when a mom told me she "doesn't really know what is going on" in her daughter's life because she and her husband get home from work at 6, and even that doesn't leave much time for casual chatting.
Wore comfortable (or no) shoes nearly every day.
Feel proud that I set a positive example of work and business and life for my children.
Wealthysinglemommy.com founder  Emma Johnson is an award-winning business journalist, activist and author. A former Associated Press reporter and MSN Money columnist, Emma has appeared on CNBC, New York Times, Wall Street Journal, NPR, TIME, The Doctors, MONEY, O, The Oprah Magazine. Winner of Parents magazine's "Best of the Web" and a New York Observer "Most Eligible New Yorker," her #1 bestseller, The Kickass Single Mom (Penguin), was a New York Post Must Read. A popular speaker, Emma presented at the United Nations Summit for Gender Equality. Emma's Top Single Mom Resources.